Back to Home
Socios · Patentes
Licenciada en Química | Agente de Patentes Europeas | European Patent Litigator at the UPC
About Me
Montserrat tiene una sólida experiencia profesional en química orgánica y un profundo conocimiento práctico de este campo, ya que durante 10 años fue responsable del departamento de I+D de una empresa farmacéutica. En ese puesto, se encargó también de los temas relacionados con patentes de la empresa. En 2002 pasó a dedicarse por completo a las patentes en el Centro de Patentes de la Universitat de Barcelona y al poco tiempo, también se incorporó a ZBM Patents & Trademarks (2004). Se convirtió en socia de ZBM en 2005 y aprobó el European Qualifying Examination (EQE) en 2008. En 2015 obtuvo el Diploma en Litigios de Patentes en Europa que le permite representar a los clientes ante el Tribunal Unificado de Patentes.
Tiene amplia experiencia en búsquedas, redacción y tramitación de patentes, y en la preparación de estudios sobre riesgo de infracción y validez. Actualmente, su trabajo se centra principalmente en oposiciones y recursos ante la EPO. Esta práctica incluye una variedad de áreas técnicas, incluyendo Química y Farmacia, ciencias de la alimentación, dispositivos médicos, polímeros y adhesivos.
Desde 2002 Montserrat ha participado regularmente en conferencias, cursos y másteres en materia de patentes tales como el Máster en alimentación de la UB, el curso de formación EQE y los cursos básicos y avanzados de Química y Farmacia del Centro de Patentes de la UB, el Curso de Derecho de Patentes del CEIPI de Barcelona y el grado de Biomedicina de la UIC.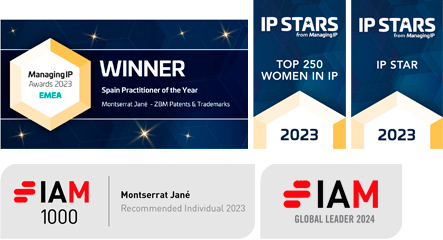 IAM patent 1000:

Montserrat Jané is "an obvious choice for those seeking protection of chemical and pharmaceutical inventions. She is clever, productive and very skilled at drafting clear and concise patent applications to achieve the broadest scope of protection possible."