Back to Home
Partners · Patents
MSc Chemistry | European Patent Attorney | European Patent Litigator at the UPC
About Me
Montserrat has a strong background in organic chemistry and a deep practical understanding of this field, having been the head of the R&D department in a pharmaceutical company for 10 years. In that position she was also responsible for the company's patent issues. In 2002 she took up the patent profession full time at the Patent Centre of the University of Barcelona and, after a fairly short time, also joined ZBM Patents & Trademarks (2004). She became a partner of ZBM in 2005 and passed the European Qualifying Examination (EQE) in 2008. In 2015, she obtained the European Patent Litigation Certificate which gives her the right to represent clients before the Unified Patent Court.
She has extensive experience in searching, patent drafting and prosecution, and in preparing risk of infringement and validity opinions. Currently, her work is mainly focused on oppositions and appeals at the EPO. This practice includes a variety of technical areas including Chemistry and Pharmacy, food sciences, medical devices, polymers, and adhesives.
Since 2002 Montserrat has regularly participated in lectures, courses, and masters on patent matters such as the Master in food at the UB, the EQE training course and the basic and advanced courses on Chemistry and Pharma of the Patent Center of the UB, the Barcelona CEIPI Course on Patent Law, and the Biomedicine degree at the UIC.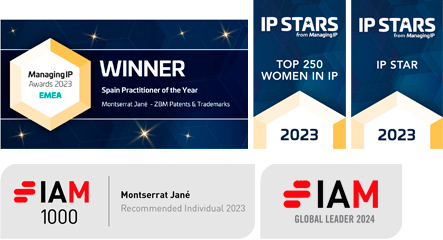 IAM patent 1000:

Montserrat Jané is "an obvious choice for those seeking protection of chemical and pharmaceutical inventions. She is clever, productive and very skilled at drafting clear and concise patent applications to achieve the broadest scope of protection possible."