Back to Home
Socis · Patents
Llicenciada en Química | Agent de Patents Europees | European Patent Litigator at the UPC
About Me
La Montserrat té una experiència professional sòlida en química orgànica i un profund coneixement pràctic d'aquest camp, ja que durant 10 anys va ser responsable del departament d'R+D d'una empresa farmacèutica. En aquest lloc, també es va encarregar dels temes relacionats amb patents de l'empresa. El 2002 va passar a dedicar-se a les patents a temps complet al Centre de Patents de la Universitat de Barcelona i al cap de poc temps, també es va incorporar a ZBM Patents & Trademarks (2004). Es va convertir en sòcia de ZBM el 2005 i va aprovar l'European Qualifying Examination (EQE) el 2008. El 2015 va obtenir el Diploma en Litigis de Patents a Europa que li permet representar als clients davant el Tribunal Unificat de Patents.
Té una àmplia experiència en cerques, redacció i tramitació de patents i en la preparació d'estudis sobre risc d'infracció i validesa. Actualment, el seu treball es centra principalment en oposicions i recursos davant de l'EPO. Aquesta pràctica inclou una varietat d'àrees tècniques, incloent-hi Química i Farmàcia, ciències de l'alimentació, dispositius mèdics, polímers i adhesius.
Des de 2002 la Montserrat ha participat regularment en conferències, cursos i màsters en matèria de patents tal com el Màster en alimentació de la UB, el curs de formació EQE i els cursos bàsics i avançats de Química i Farmàcia del Centre de Patents de la UB, el curs de Dret de Patents del CEIPI de Barcelona i el grau de Biomedicina de la UIC.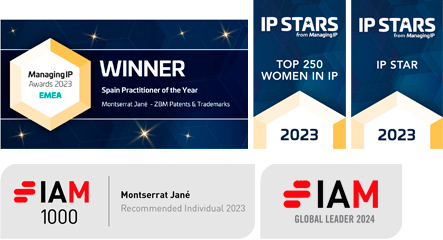 IAM patent 1000:

Montserrat Jané is "an obvious choice for those seeking protection of chemical and pharmaceutical inventions. She is clever, productive and very skilled at drafting clear and concise patent applications to achieve the broadest scope of protection possible."